Chips for week 11, 2021
Monday 22 March, 2021 at 10.24am
Week 11, 2021 ran from Monday 15 March, 2021 to Sunday 21 March, 2021.
tagged
Another week, and I'm back to stacking chips. Last week's chips looked like this: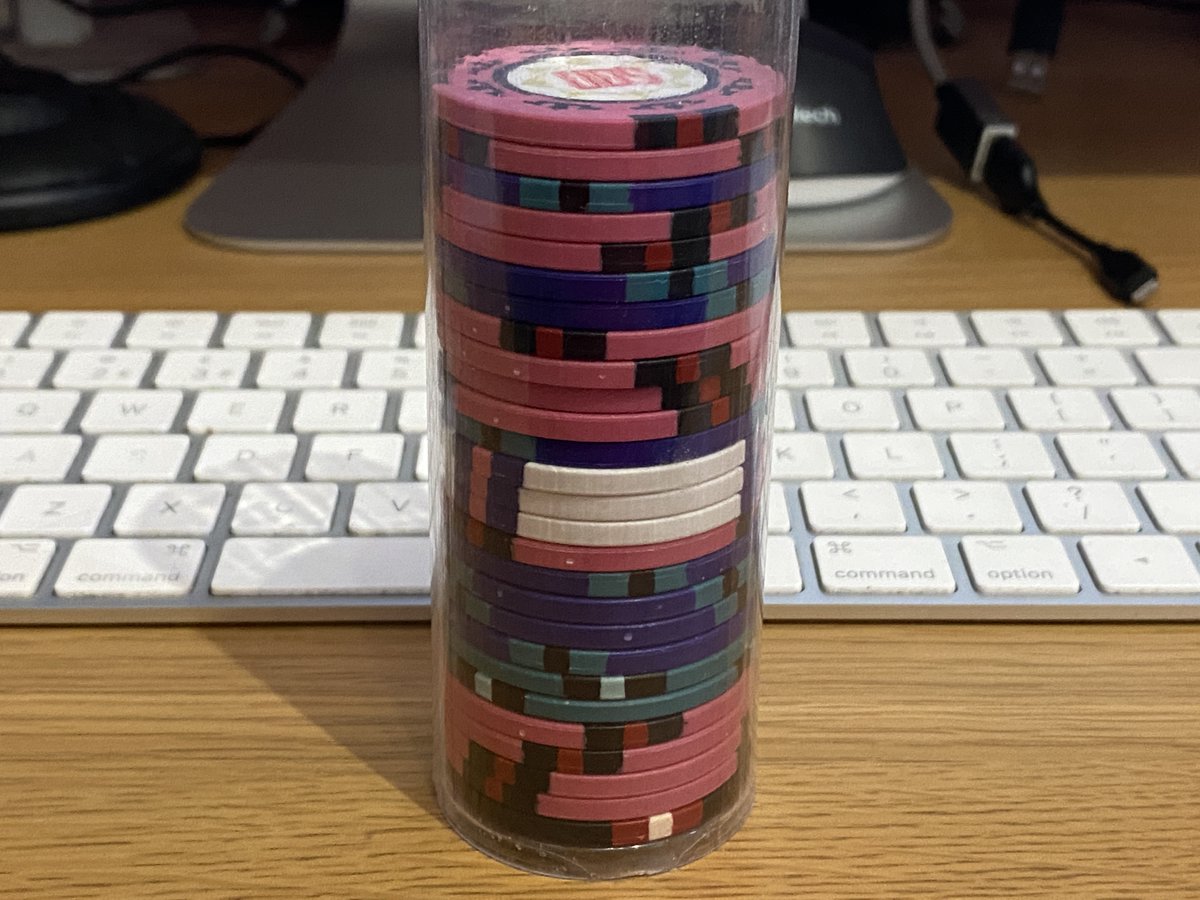 Reflection
It's been six months since my last #weekchips post, during which time I was basically doing one of two things on any given day: nothing, or editing video.
Okay, that's not entirely true, but for more weeks than not I would've had a stack of white or pink chips and nothing else. That wouldn't have been interesting so I didn't bother with the chips, and the knock-on effect from that was that I also didn't bother writing anything.
And that was a mistake.
For one thing, I've learned some things about editing videos, and using tools to overlay content. Nothing groundbreaking, but I could've been writing about my discoveries. Or about the many tricks I've been employing to make my videos less boring, or smoother to watch from a non-livestream perspective. I'm hoping to fix that with my next game, and to write up at least a few paragraphs on anything new in each video as it is published, rather than me trying to retrospectively remember what I could possibly write about for each now-published video.
Update
This past week I've been preparing for Eurovision.
Specifically I've been going through previous Eurovision contests to collate the acts and scores, to create a repository of Eurovision data that I can then use to start to add historical information to the site promoting my live Eurovision Drinking Game twitter experience.
As the most error-prone part was going to be going through hundreds of scoring data points, I've written a script to fetch that and create the data files for any given show. I then go through each by hand, add the artists/singers and try to find some basic information about each (name, dates of birth/death, country they are from).
I've also added a set of tests to ensure the data makes sense and no artists, singers, or songs are accidentally duplicated or reusing IDs (I'm using slugs made from their names, so there's a likely chance of some accidental duplication).
So far I've worked through 1956 to 1969. One of my goals for week 12 is to bring that up to at least 1989.
And I finished making more Innerspace GIFs for Simon Willison that will be published once per week on my gifs site over the next few months.