Chips for week 41, 2021
Monday 18 October, 2021 at 9.16am
Week 41, 2021 ran from Monday 11 October, 2021 to Sunday 17 October, 2021.
tagged
updated
Monday 15 November, 2021 at 7.05am
(Fixing tshirt date typo)
Another week, and I'm still stacking chips. Last week's chips looked like this: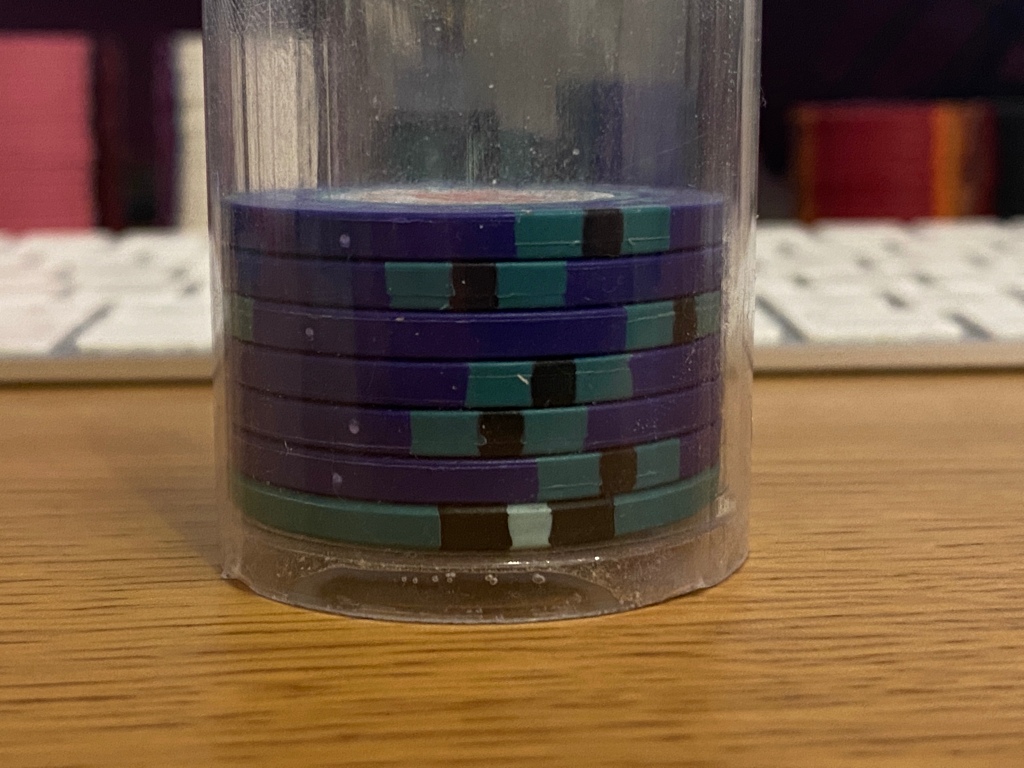 Intention
At the start of the week, I wrote down three goals:
Add one season two Ted Lasso episode to GIFs — ❌
Start on music library project — ❌
Improve using hasworn — ✅
Update
I started the week with a little housekeeping on the site, publishing the sad weeknote summary of the past month, then fixing a couple of tiny bugs in the site. The automatic updates had stopped because of a new major version of tweepy came out, and I hadn't pinned the version, and I realised the "quick" publish part of the site generation workflow wasn't generating all the pages it could due to me getting a naming convention wrong.
My goals were probably a little ambitious, but I did at least do one. I spent an hour each morning on a handful of small updates to hasworn:
And over the weekend I finished something I'd been noodling at on and off for a couple of months, an animation of my most-worn tshirts across the lifetime of my data.
This was inspired by not noticing that my long-time most worn tshirt (previously Explorer, most worn from 2014-07-28) changed in February to be Firewatch (most worn from 2021-02-04 through today). Also, my first most worn was Thunder-King (starting at a count of 5 wearings, it was most worn from 2013-10-25 through 2014-07-27).
Although, having said all that I know that my actual most worn tshirt is actually Hard core pawn which I wore a lot in the 90s and 00s, before records began. I had far fewer tshirts to choose from, and it definitely got worn every two or three weeks. Look at the fraying and holes around the neck, that tshirt Has. Been. Worn.