Chips for week 43, 2021
Monday 01 November, 2021 at 5.08am
Week 43, 2021 ran from Monday 25 October, 2021 to Sunday 31 October, 2021.
Another week, and I'm still stacking chips. Last week's chips looked like this: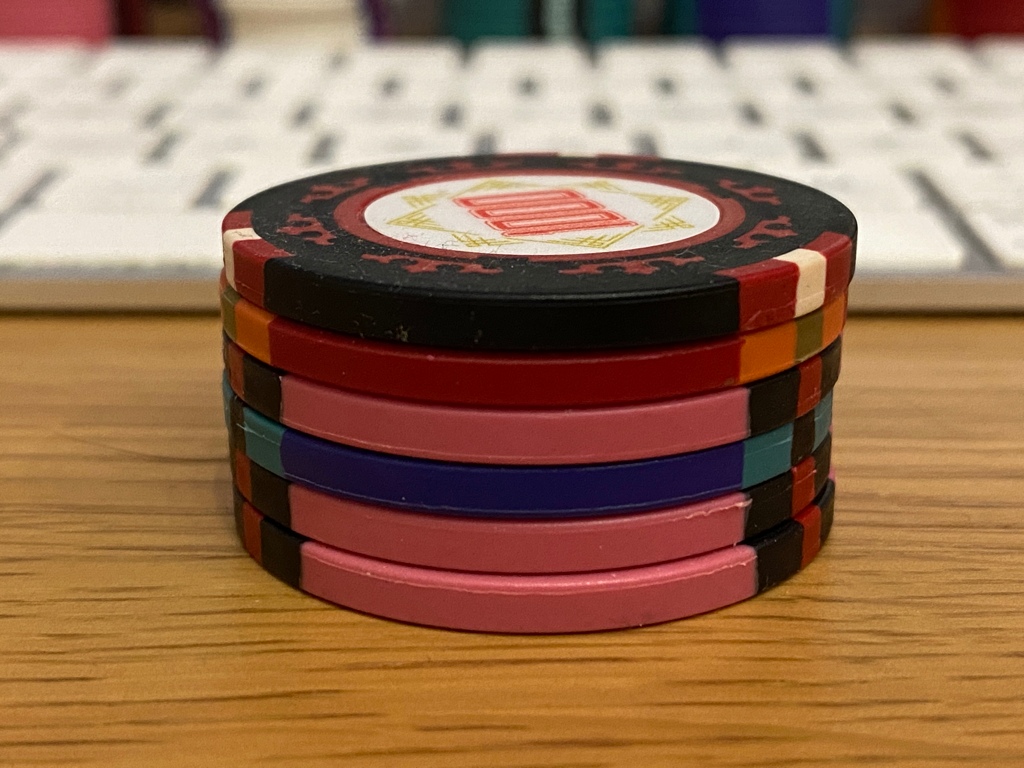 Intention
At the start of the week, I wrote down two goals:
Make GIFs from Ted Lasso season 2 — ✅
Start music library work — ✅
Update
As I went into the week with low motivation to do much of anything, and with an absence of concentration, I had set myself only two and hopefully modest goals. As I have said before, making GIFs is something I can do almost without thinking, and find strangely meditative, so I could spend the bulk of the week doing that if I couldn't think about anything else.
When I started making the Ted Lasso GIFs, I got a "this could be done better" itch and scratched it. A little quality of life improvement. But after finishing the first episode my desire to make GIFs waned, so I spent the next couple of mornings redecorating instead.
I've had some of these hellocanvas hexagons up in my study for a while, with some of my favourite photos printed on them. As I started thinking about adding a few more, I also hit on the idea of printing some colour swatches. A little bit of python later and in early October I put in my order. It arrived shortly after and then sat there for two weeks being ignored.
This week I pulled them out, then cut up some spare cardboard to make a sizing jig to get the left edge regular to the wall. The ceiling in my study is not straight, there is a little bow in the middle. However, the end of the wall I was putting the pictures up on is a corner before the door and so has a metal corner bead, making it definitely a straight edge.
I put a few up each morning and by midday Friday was done with this new batch. The existing pictures are also moving, but the mounting plates for these hexagons are held up with Tesa powerstrips, and I need to find more of those before I can move them to their new home.
Over the weekend I wrote an update to my add tweet GitHub Action, so I could (theoretically) add a new post featuring the thread of pictures to the site from my phone.
Then Sunday after getting up stupidly early (because cats), I spent my extra hour and a couple more starting to think about my music library.
When I started marking my weeks with poker chips, I kept one of the six colours to mean working on my music library. I could have assigned a different colour to each project I work on, but apparently that didn't make sense to me at the time, and yet differentiating this one project did. I suppose because it also involved a lot of work with physical objects (I have a lot of CDs), not just coding. But the hubris of giving it a special colour meant I almost immediately stopped caring about doing anything about it.
In a couple of chips pictures earlier this year I have used the black chip to represent time spent on planning my week, but I stopped doing that pretty quickly too.
Last month I got interested in the idea again, and have bought myself a Raspberry Pi so that I could have a computer dedicated to playing music, small enough to put in the corner and hook it up to the amplifier and speakers in my study, not just playing from my phone to the little bluetooth speakers I have. I have it running, and for now I have installed mopidy so that it can at least play music while I've not done anything further.
After making myself some notes on the whys and my goals, I've committed that and the most minimal amount of python needed to play music through gstreamer, and pushed it to GitHub.